- CHANVERRIE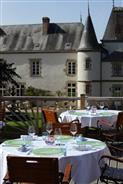 La Table du Boisniard is a gourmet restaurant with 2 Michelin forks, located in the Domaine du Château du Boisniard, 3 minutes from Puy du Fou. The Chef also offers cooking classes.
La Table du Boisniard situated in the magnificient chateau grounds is an award winning gourmet restaurant featuring in the Michelin guide.
Come and sample the creative and refined food that our chef prepares with only the best local produces.

+Services
- Seminars
- Terrace
- Wifi access
+Periods and opening hours
Back to results
CONTACT