- L'AIGUILLON-SUR-MER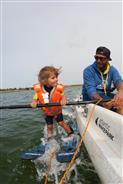 The Atlantic Wake Park is a big cable skiing of 750 m of length allowing the practise during an initiation or improvement of Wakeboard, Kneeboard, Wakeskate and Water Ski.
Made up of 5 pylons, the big ski-tow of 750 metres of length gives you the possibility to practice with up to 10 people at the same time.

The track is studied for taking the turns smoothly for a slide pleasure ensured from the first attempts.

Made up of different certified modules (kicker, box...) your wake park adapts itself to all levels, for a fast and secured progression.

The activities:
- Wakeboard
- Kneeboard
- Wakeskate
- Water ski

A round trip system allows to initiate yourself to the practise of the different slide activities being offered. Alone on the cable, a certified monitor will accompany you during your progression.

Privatisation, internships and lessons possible.
+Equipments
- Picnic area
- Bar
- Restaurant
- Equipped conference room
- Toilets
+Services
- Shop
- Games area
- Wifi access
- Pets allowed
+Prices
| | Minimum | Maximum | Précisions tarifaires |
| --- | --- | --- | --- |
+Periods and opening hours
+From 6 April to 30 April 2019
Morning
Afternoon
Monday
12:00
19:00
Wednesday
12:00
19:00
Thursday
12:00
19:00
Friday
12:00
19:00
Saturday
12:00
19:00
Sunday
12:00
19:00
Fermé le mardi
+From 1 May to 31 May 2019
Morning
Afternoon
Monday
12:00
20:00
Wednesday
12:00
20:00
Friday
12:00
20:00
Saturday
12:00
20:00
Sunday
12:00
20:00
fermé mardi et jeudi hors ponts et jours fériés
+From 1 June to 30 June 2019
Morning
Afternoon
Monday
12:00
20:00
Wednesday
12:00
20:00
Friday
12:00
22:00
Saturday
12:00
20:00
Sunday
12:00
20:00
fermé mardi et jeudi hors ponts et jours fériés
le vendredi jusqu'à 22h
+From 1 July to 31 August 2019
Morning
Afternoon
Monday
09:00 - 12:00
12:00 - 20:00
Tuesday
09:00 - 12:00
12:00 - 20:00
Wednesday
09:00 - 12:00
12:00 - 20:00
Thursday
09:00 - 12:00
12:00 - 20:00
Friday
09:00 - 12:00
12:00 - 22:00
Saturday
09:00 - 12:00
12:00 - 20:00
Sunday
09:00 - 12:00
12:00 - 20:00
Ouvert 7/7 et le vendredi jusqu'à 22h
+From 1 September to 30 September 2019
Morning
Afternoon
Monday
12:00
20:00
Wednesday
12:00
20:00
Friday
12:00
22:00
Saturday
12:00
20:00
Sunday
12:00
20:00
fermé mardi et jeudi
Book online
Back to results
CONTACT